hello
I took Anna out for her birthday on Saturday. The first thing that we did was get her hair cut....it is really short now but she loves it.....here is a before picture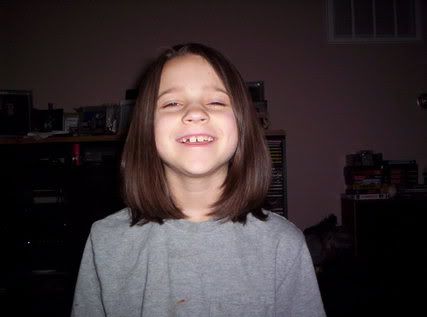 after we went to get her haircut we went onto the city...we walked around and she bought a purse with a monkey on it(that's the cool in thing now....in case you did not know). After we did our shopping it was time to eat at her favorite place.....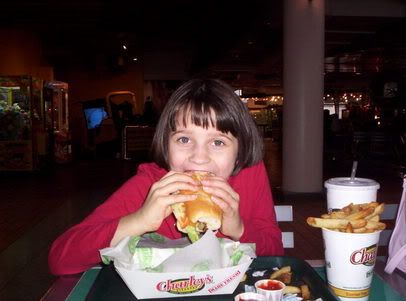 her shoulders are all scrunched up but her hair is short and she looks so cute. We also went to the movies to see Cheaper by the Dozen 2...it was a pretty good movie.
Anna did not get a call from anyone in my family or from James to wish her a Happy Birthday....I think it is bothering her but I will not take her to them...that is not my problem. I think that she is going to have to get a real view if how they are when it comes to this whole situation. You may think that I am wrong but I am going to be extremely open about everything from my childhood to the present....I am not sure how else to go about this but I do not want her to think that I am keeping her away from them just because I do not like them or for the reason of them not liking Greg. I guess I will find out sooner or later if this is the right decision. I hope it is......