****UPDATE****
I know that I said that I was in love with the shoes I bought yesterday online but.....I went the mall and guess what I found????
Give up? I found the boots (I LOVE boots) that I have been lookin' at since summer. They were on clearance and in my size (I'm so lucky). What do you think of my new boots?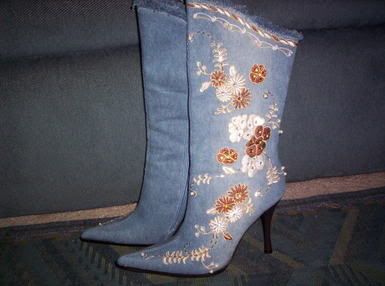 I know they are sexy hu? I guess I will have to stay out of the mall for 2 weeks until my next check comes in. I just couldn't say no to those boots......you do understand don't you?!?!?
Shoes....I just love them. This is the latest pair that I am in love with. I love the green ones now I have have to do is buy a new outfit....sure I already have something to go with it but I can always use a good reason to do more shopping.
It has been a little while since I have been able to wear heels to work and I am loving every minute of it now! I went shopping over the weekend and found some great deals. I bought a dress....2 work outfits (for under $50), jewelry, and a cute black top and now these shoes....I am going to do more shopping before work. Hey, I have been a good girl and I deserve this.
I have a few more links that I need to add to my site......some clothing links and a few new blog link that I have found over the past few weeks. If anyone knows of any good shopping sites please don't keep them to yourself....share please!
I wish I could stay and chit chat with you but I have to get ready for work and then go shopping. Have a great day!