breast cancer awareness
I have been on the computer and just wanted to share some of the products that I have found that will benefit breast cancer research. When I was out shopping yesterday I bought this pin from
Payless.
It was only $2.00 and it is cute. I will wear it at work with my other breast cancer pins.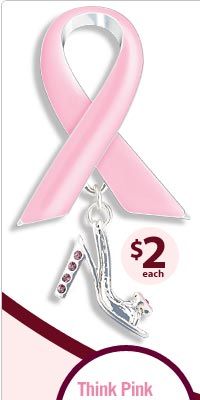 Also, If you have ever wanted to by something from
saks
but thought it was way out of your price range then it is time to spoil yourself. The shirt is only $35 and $33 goes to breast cancer research.
If you are interested in buying this shirt you can go
here.
There are many more that can be found just do a google search. Also please make the men in your lives aware that this is not just something that women need to be aware of,
men
are also affected by this.